Three young girls witness a murder—and make a pact never to tell what they saw. But when the woman's body is uncovered seventeen years later, the killer's faith in their promise is shaken. A few deadly reminders may be in order…

Samantha Beaumont knows it's time to reveal the truth about what happened in the woods all those years ago—until the accidents begin. Fear that the killer will shut them up permanently leads Sam on a quest to protect her friends and expose the murderer's identity. No one, certainly not the man she spent one memorable night with, will stop her.

Ethan Thorne has no reason to believe Sam is any more interested in a commitment now than when she ran from him five years before. Still, he can't resist trying one more time… When he realizes her life is in danger, he'll risk everything for a chance at love.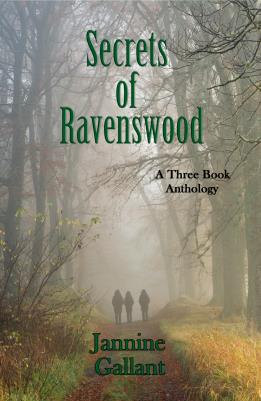 Get all three novellas in one print edition!


Darby Kincade is a genealogist—not a ghost hunter. But when she's hired to research the Nash family tree, her job description blurs. Discovering the identity of the spirit who lingers in the ancestral home promises to be both challenging and fun—despite her client's skeptical grandson.

Logan Nash doesn't believe in ghosts, but Darby's wit and tenacity intrigue him. Though his practical side objects, he's drawn to both her and the old mystery. As their feelings for each other deepen, and they grow closer to uncovering the truth, someone is determined to keep long dead secrets buried.

Will Darby and Logan find love—or will the past come back to haunt them?


For the sake of his children, Shane Warren is determined to make a fresh start in Ravenswood, high in the Sierra Nevada Mountains. But pulling himself out of the dark place his wife's tragic death left him in isn't easy—until he meets Juliette Shaw. Her beauty and sparkle give him a reason to believe in second chances.

Juliette is deeply attracted to the man she's hired to remodel her home. Not only is he gorgeous, he's genuinely nice. But Juliette has been hurt before, and taking another chance on love isn't part of her game plan, not when the secret she holds close to her heart cost her one failed marriage.

While Shane and Juliette struggle with trust and vulnerability, a threat neither could have anticipated draws near, jeopardizing any chance at happiness.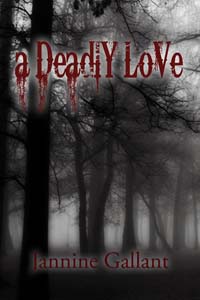 "Even though this book was a little over 300 pages, I read it in one sitting. I could not put the book down. Ms. Gallant really knows how to keep your attention, employing an explosive combination of suspense and sizzling chemistry..." ~ The Romance Reviews

"Ms. Gallant creates some bone chilling suspense in A Deadly Love. I couldn't stop reading... Captivating, suspenseful, and at times, downright scary, I highly recommend this book." ~ Storm Goddess Book Reviews

"What an amazing book!  This one had it all: mystery, crazy serial murderer, love realized, a strong female protagonist, sexy former (widowed with adorable child) crush….who could ask for more?" ~ Siren Book Reviews

In the heart of the redwoods, a madman waits...

Recovering from a broken engagement and determined to start over, Brooke Wakefield flees to her grandmother's home deep in the redwood forest. Discovering her teenage crush lives next door is a less than auspicious beginning. The last thing she needs is another man to break her heart, but every time Dillon glances her way, her heat level soars.

Dillon Tremayne isn't looking for a relationship. With a young son, an eccentric grandfather, and a logging company running him ragged, he can't afford any romantic entanglements. But Brooke's humor and strength are hard to resist.

When a woman from his past is brutally murdered and another disappears, Dillon is heartsick--and terrified the killer will target Brooke next. Can Brooke and Dillon find love in the heart of the forest? Or will a madman's twisted dream destroy their chance at happiness?